It's almost spring and that means it's time to hit the open road in your RV! Whether you're a seasoned veteran or a first-time camper, there are plenty of amazing destinations to explore. Here are five must-see RV trips Zoomers RV recommends to take this spring.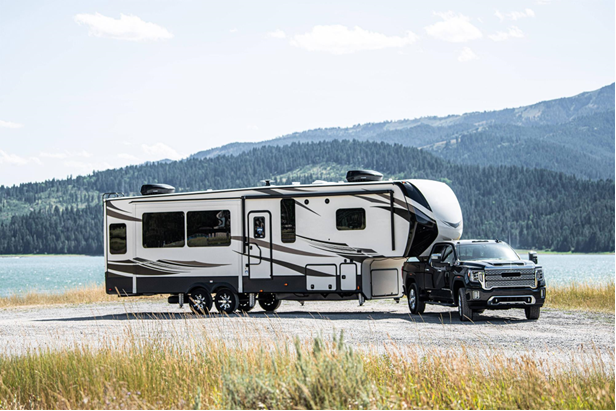 Blog Body:
1. The Grand Canyon – You can't talk about RV trips without mentioning the Grand Canyon. With its stunning landscapes and abundance of outdoor activities, it's the perfect place for a weekend getaway or a weeklong adventure. Camping at the Grand Canyon is an unforgettable experience and offers spectacular views of one of America's most iconic natural wonders.
2. Denali National Park & Preserve – Alaska: For those who are feeling adventurous, a trip to Denali National Park & Preserve in Alaska is sure to be a once-in-a-lifetime experience. From seeing amazing wildlife like moose and caribou up close to exploring glaciers and snowfields, there's something for everyone at Denali. Plus, there are plenty of campsites available so you can rest easy after a long day outdoors.
3. Glacier National Park, Montana – If you're looking for some incredible mountain views and breathtaking wildlife, Glacier National Park is an ideal destination. A great introduction to the park is the Going-to-the-Sun Road, which winds through the center of the park and offers stunning views of glaciers, snow-capped peaks, and crystal clear lakes. There are numerous campgrounds throughout the park, as well as plenty of opportunities for hiking and other outdoor activities. Glacier National Park offers spectacular sights that will leave you spellbound.
4. Big Bend National Park – Texas: Big Bend National Park is home to some of the most rugged terrain in all of Texas—and it makes for a great setting for an RV trip this spring! Enjoy exploring Big Bend's vast desert landscapes filled with cacti and other native plants; visit historical sites like Fort Leaton; or spend some time bird watching along the Rio Grande River. The possibilities are endless when visiting Big Bend National Park!
5. Acadia National Park – This national park is located on Maine's Mount Desert Island and offers some of the most spectacular scenery in the country. Full of lush forests, rocky beaches, and crystal clear lakes, Acadia National Park is perfect for an unforgettable camping trip with breathtaking views around every corner. Plus, if you're looking for some fun activities while camping here, there are plenty of options such as kayaking or exploring Cadillac Mountain—the highest point on the east coast!
6. The Great Smoky Mountains – Spread across Tennessee and North Carolina, the Great Smoky Mountains offer breathtaking views and plenty of outdoor activities like hiking, fishing, and biking. With campgrounds located throughout the park, you'll be able to find one that fits your needs perfectly. Plus, with so many things to do and see in the surrounding area, you won't have any problem finding something new to explore each day.
7. Everglades National Park – For a unique experience unlike any other in Florida, take your RV out into Everglades National Park! From exotic wildlife like alligators, crocodiles, manatees, sea turtles, and hundreds of species of birds to canoeing or kayaking through its rivers and streams or spotting dolphins from a boat tour on Florida Bay—there's something here for everyone! Campsites within the park have hookups available if desired.
8. Yellowstone National Park – Located mostly in Wyoming but also extending into Montana and Idaho, Yellowstone National Park is home to some of America's most iconic landmarks like Old Faithful geyser and Mammoth Hot Springs terraces. With over 2 million acres full of wildlife watching opportunities, miles of trails for hiking or biking through majestic landscapes, plus numerous camping spots available within the park boundaries—it makes for an ideal destination for avid RVers looking for an adventurous trip this spring!
9. Zion National Park – Last but not least is Zion National Park located in southwestern Utah which is known for its towering sandstone cliffs as well as its abundance of wildlife including mule deer and wild turkeys! There are several campgrounds within Zion where you can set up your RV while exploring all that this national park has to offer—from incredible hikes along its narrow canyons or simply taking in all its beauty from one of its many viewpoints!
No matter where your travels take you this spring in your RV, remember that adventure awaits around every corner when you hit the open road! From exploring majestic mountainscapes at Glacier National Park to discovering hidden gems at Acadia National Park in Maine—there's something for everyone on these nine epic trips that we've highlighted here today. So pick out your next travel trailer or motorhome at Zoomers RV, grab your keys (and your camping gear), and get ready for an unforgettable journey into nature as you explore some of America's most incredible national parks this season! Happy trails!