2020 Jayco North Point 381FLWS Floor Plan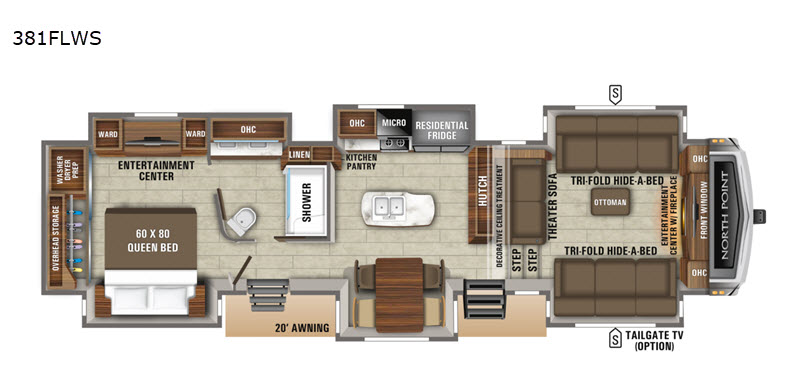 Top Features Of The 2020 Jayco Northpoint 381FLWS Include:
Front Living
Accessory Receiver Hitch
6 Slides
Generator Prep
2 Tr-Fold Hide-A-Beds
Residential Refrigerator
Dual Sink
King Bed
Washer/Dry Prep
You won't want for space in this LUXURY FIFTH WHEEL. 3 sets of opposing slides ensure a SPACIOUS FEEL. 2 Tri-Fold Hide-A-Beds make you always ready for company! Residential refrigerator and washer/dryer prep give you all the normal comforts of home. The bathroom is large with plenty of space around the toilet (for those with longer legs), shower with shower seat, and dual sink!
KEY SPECS FOR THIS 2020 JAYCO NORTH POINT
Weight: 14,020 lbs
Length: 41′ 7″
Sleeping Capacity: 6
See More Specs & Pics of this 2020 Jayco North Point 381FLWS
WHO IS Jayco North Point 381FLWS FOR?
The 2020 Jayco North Point 381FLWS is the perfect LUXURY FIFTH WHEEL for those wanting to feel like home when away from home. It is a couples camper, but with a sleeping capacity of 6, there is plenty of room for friends or grandkids. The North Point 381FLWS is also perfect for those extended camping trips or second homes. Washer/Dryer Prep, Residential Refrigerator, and plenty of bells and whistles make for a comfortable living experience.
READY TO TAKE THE 381FLWS ON THE ROAD?
MSRPs: $97,633
ZOOMERS LOW PRICE: $63,300.
PAYMENTS AS LOW AS $435/month* with ZOOMERS' HASSLE-FREE ONSITE FINANCING. NO $$ DOWN.
Questions?
Call/Text Today:
Beth Francis: 260-710-0117
Ben Holbrook: 260-901-0837
Kristy Fletcher:260-571-5980