New 2020 Forest River RV XLR Hyper Lite 3310 Floorplan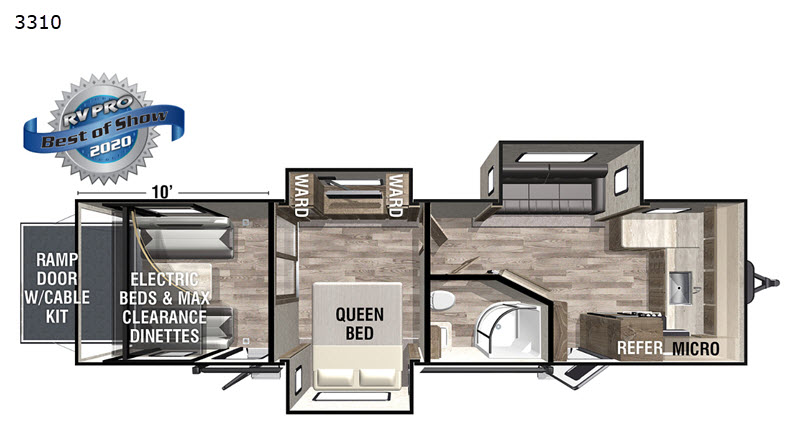 Top Features Of This NEW 2020 XLR Hyper Lite 3310 Include:
10′ Garage
Dual Entry
Front Kitchen
Central Bedroom w/ Opposing Slides
Electric Bed w/ Max Clearance Dinettes
Fully Enclosed Underbelly
Fireplace
The NEW 2020 XLR Hyper Lite 3310 features a BRAND NEW FLOOR PLAN! Enjoy the looking out the big beautiful front window as you prepare your meals. Reclining sofa in good proximity of TV and Fireplace. Comfortable seating and no craning your neck to see TV! The central bedroom feels extra spacious with opposing slides. The 10′ Garage comes fully equipped with its Electric Bed and Max Clearance Dinettes.
Key Specs For This NEW XLR Toy Hauler
Weight: 9,998 lbs
Length: 37′ 4″
Sleeping Capacity: 8
The NEW 2020 XLR Hyper Lite 3310 is a great Couples Camper that happens to come with a 10′ Garage. Not hauling your toys? The electric bed makes turns the garage into the perfect guest room. Or use the dinette and enjoy the extra space to dine and spend time with loved ones. View more specs and pictures at zoomersrv.com.
Ready to take the NEW 2020 XLR Hyper Lite 3310 On The Road?
MSRP: $59,247
ZOOMERS LOW PRICE: $39,360
PAYMENTS AS LOW AS: $321/month* with ZOOMERS HASSLE-FREE ONSITE FINANCING. NO $$ Down.
Questions?
Call/Text Today:
Beth Francis: 260-710-0117
Ben Holbrook: 260-901-0837
Kristy Fletcher:260-571-5980