Whether you've been dreaming about hitting the open road in your RV since last fall or you just bought a rig from Zoomers RV and it's finally time to roll, getting your RV prepped for its first trip of spring is an essential part of a successful and safe journey. Before you hit the pavement, make sure your motorhome is prepared for all that comes with camping and long-distance travel.
Inspect All Systems
Before venturing out in your RV, it's important to inspect all systems. This includes checking all fluids, inspecting tires and brakes, and ensuring that all lights are working properly. It's also a good idea to check the battery charge level and top off any fluids that may be low. Don't forget to look inside as well; check for any wear or damage that may have occurred over the winter months. This will help you identify any potential issues before they become a bigger problem.
Check Tire Pressure and Wear & Tear
Your tires are more than just the rubber that meets the road. They're one of the most important components in ensuring a safe ride, so check them before each trip. Make sure all of your tires are properly inflated by using a reliable tire gauge. Additionally, look at each tire carefully for signs of wear and tear; if you see any bulges, tread separation, or other suspicious signs, replace the tire right away. This is especially important when checking dual wheels because they may appear to be working fine while one wheel is actually damaged.
Check Your Fluids
Fluid levels should always be checked before a long drive; this includes oil levels as well as transmission fluid, coolant levels (which should never drop below half full), brake fluid level, and power steering fluid level. It's also important to top off windshield wiper fluid before taking off on your next adventure. You never know when Mother Nature might surprise you with some unexpected rain!
Inspect Exterior and Interior Components
Are all lights functioning? Is there any visible damage to exterior panels? Are windows free from cracks? These are just some questions to consider when inspecting both the interior and exterior components of your RV. Ensure all doors shut securely, check locks on windows and drawers to make sure they are functioning properly, inspect wiring harnesses for fraying or other damages caused by rodents or other pests over winter months—the list goes on! The more thorough you can be in examining every detail of your RV's interior and exterior condition pre-trip will ensure more peace of mind while out on the open road this spring season.
Maintenance & Repairs
If there were any issues identified during the inspection process—such as worn tires or failing brakes, it's important to address them immediately before taking your RV on the road. This can help prevent further damage down the line and ensure everyone's safety while traveling in an unfamiliar environment. If necessary, schedule repairs with an experienced mechanic who specializes in RVs so you know you're getting quality work done right away at an affordable price point.
Clean & Restock Supplies
After inspecting all systems, it's time to clean out the interior of your RV. Make sure everything is neat and organized, with no items left behind from last season. Next, restock essentials like towels, toilet paper, soap, snacks, etc., so you're prepared for anything when you hit the road. You'll also want to double-check expiration dates for food items stored in cupboards or refrigerators so nothing gets wasted during transit.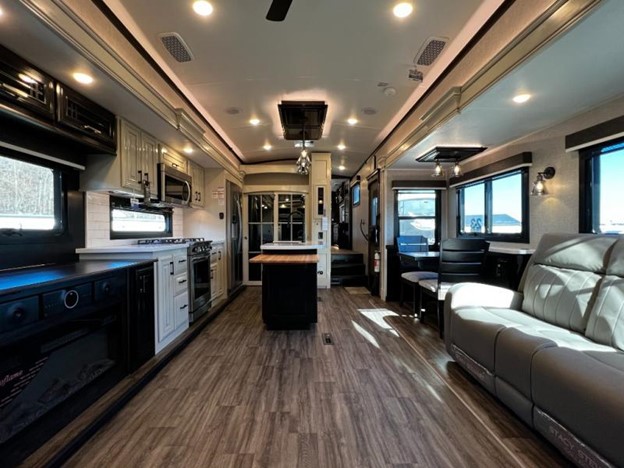 As an RV owner you know how much fun exploring new places can be—but only if you take proper care of your vehicle beforehand! Whether you plan on taking a short weekend trip or an extended excursion across multiple states this spring season, following these few simple steps from Zoomers RV will ensure that you have an enjoyable journey without any unexpected surprises along the way. So get yourself prepared now so that you can relax and enjoy once it's time to hit the road! Happy Travels!
Still need help? Here at Zoomers RV, we know that getting out on the road and enjoying our great country is your priority, and we will help keep you traveling in comfort and style. We have the equipment and experience to get your motorhome or trailer in prime shape, and that means more road time for you. Contact us, and we'll get you in and out of the shop in an efficient and timely manner, so you can get back to experiencing the freedom that the RV lifestyle provides.