It's no secret that RVing has surged in popularity over the last few years. Being able to hit the open road and bring all of the comforts of home along for the ride is a big draw for many people. And while RVs have come a long way in terms of amenities and technology, there are always ways to upgrade and improve your rig. Whether you're a seasoned RVer or just starting out, there are plenty of modifications you can make to your RV that will make it feel more like a home on wheels. Here are some of the best upgrades the experts at Zoomers RV recommend for your RV that will take your home on wheels to the next level.
Solar Panels
Make the most out of your travels by adding solar panels to your RV. Solar power is perfect for those who love to camp off-grid and want to minimize their environmental impact. Solar panels help to reduce your dependency on generators and other sources of energy, making your RV more environmentally friendly. With solar panels, you can generate your own electricity and keep your batteries charged and ready to go. In addition, solar panels can keep your RV cool in the summer months by providing electricity to your AC and other appliances.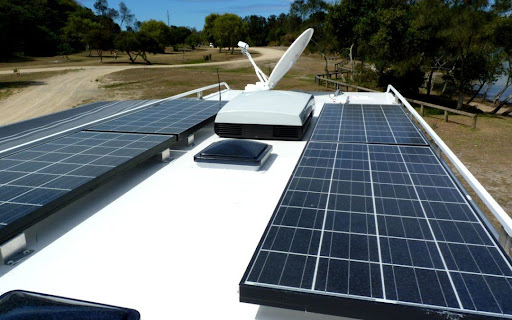 Composting Toilet
A composting toilet may not seem like the most glamorous upgrade, but it can make a huge difference in your RV experience. With a composting toilet, you no longer need to use a black water tank, making it easier to maintain your RV's plumbing system. In addition, composting toilets are much more environmentally friendly, producing fertilizer for plants rather than sewage for treatment plants.
Upgraded Mattress
If you have ever spent a night in an RV, you know how uncomfortable the standard RV mattresses can be. Upgrading your mattress is a simple but effective upgrade that can make a significant difference in your comfort level. An upgraded mattress will provide better support and help you get a better night's sleep, ensuring you are well-rested and ready to tackle your next adventure. Look for a high-density foam mattress that's designed specifically for RVs. They're often more compact and lighter than regular mattresses, making them easier to move and store. Also ensure your bedding is made of high-quality, eco-friendly materials.
Kitchen Upgrades
If you love cooking in your RV, then upgrading your kitchen and cookware is an absolute must. Look for space-saving kitchen gadgets or appliances, such as a multi-cooker or compact blender that won't take up too much room. Check for cookware and food storage that is easily stackable and lightweight, making it easy to pack and store in your RV. And replace the generic stovetop and oven with a durable, high-quality stove one or install a new refrigerator or freezer that better fits your needs. Adding a countertop extension can give you more space to chop, prep, and cook.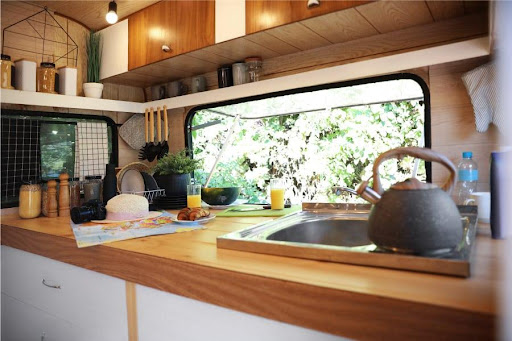 Update the Lighting
Updating your RV's lighting fixtures can add both style and functionality. LED lights are a great upgrade, they're energy-efficient and long-lasting, which means you won't have to change them very often. Also consider installing under-cabinet lighting, or a simple table lamp to add ambiance to your space. This will also save you energy since you no longer have to use your main ceiling lights. 
And don't forget the outside of your RV. Exterior lighting is an essential upgrade for any RV owner who enjoys camping in the great outdoors. With exterior lighting, you can extend your outdoor living space, making it easier to cook, eat, and relax outside your RV. Exterior lighting can also provide additional safety and security, making it easier to navigate around your RV after dark.
Entertainment System
Upgrade your RV's entertainment system with modern features and gadgets. RVs come with a standard television, radio, and sound system, but there's so much more that you can do to create an immersive experience. You could add a smart TV that comes loaded with streaming services like Netflix and Hulu, upgrade your speakers and sound system, and even add a gaming system for family fun.
WiFi Booster
In today's world, access to the internet is essential, even when you are on the road. A wifi booster can help you stay connected, even in remote areas. With a wifi booster, you can boost your signal and extend your range, making it easier to access the internet from your RV. This is especially important if you are working from home or if you need to stay in touch with family and friends while you are on the road.
Investing in these upgrades will enhance your life on the road by providing greater comfort and convenience. Upgrading your RV doesn't have to be a difficult or expensive process; some of these changes can be done simply and affordably. Whether you're ready to transform your RV into a luxurious living space or simply want to make minor improvements, these upgrades will make a world of difference. So, get ready to hit the road in style and comfort, and make the most out of your RV adventures.
Installing upgrades and adding amenities is a great way to customize your adventure vehicle, but it's important to make sure your work is done correctly and professionally. That's where we come in. At Zoomers RV, we have experienced experts in our Service Department to help with all of your installations and customization needs. Whether you need assistance upgrading your mattress or installing more comprehensive systems, like solar panels and satellite dishes, our team is here for you! Contact us today to get started – we promise you won't be disappointed! Your next journey awaits! Adventure on with confidence knowing Zoomers RV is here for you every step of the way.